Meaningful Engagement: Building Your Business on Social Media
Leah Silberman & Molly Rieger from Tovita Nutrition are speaking with Meltwater at this year's PRSA International Conference on Sunday, November 8 from 2:45 – 3:45 p.m. in Atlanta . We caught up with them before the event to get their thoughts on meaningful engagement and how it has impacted their PR strategy, and their business as a whole.
Leah and Molly both completed their master's degree in clinical nutrition at NYU. They are both are registered dietitians. And they decided to start up a practice together. Their first step was to launch a blog. It's full of recipes, beautiful photos, and tips for better nutrition. What they quickly found out was that the blog, along with all the other ways that they can communicate with clients and prospects online, was a business in and of itself. That's when they decided to stop looking for office space. Today they use their blog (and other social media channels, especially Instagram) to showcase their vision. They deliver their private counseling services through videoconference and provide continuous support to clients via email and/or text message (with optional in-person consultations for clients).
Leah explains, "we found out that the virtual experience suited our audience and helps them make nutrition a priority, wherever they are."
As Leah sees it, their approach works because millennials are a "service-oriented generation. We can order our groceries online, schedule appointments online. Molly and I wanted to bring this concept into the realm of private practice, especially because people tend to put nutrition at the bottom of the totem pole; they're more inclined to go to SoulCycle or other exercise classes before they change their habits around nutrition. We maximise convenience and provide services to clients wherever they happen to be. Social media provided the entry point."
Today, Molly and Leah schedule their time on social media just like they would clients, and they're learning to use each channel to maximum effect. Molly points out that with Instagram, they saw that "people respond really well to food pictures, and so we have been posting a lot of them, but we have also come to realise that as powerful as they are, there is only so much that the photos can communicate, and people were starting to think of us as a food blog." Simple enough, they're now starting to use Instagram to show more of what they for clients—to drive meaningful engagement and shift perception.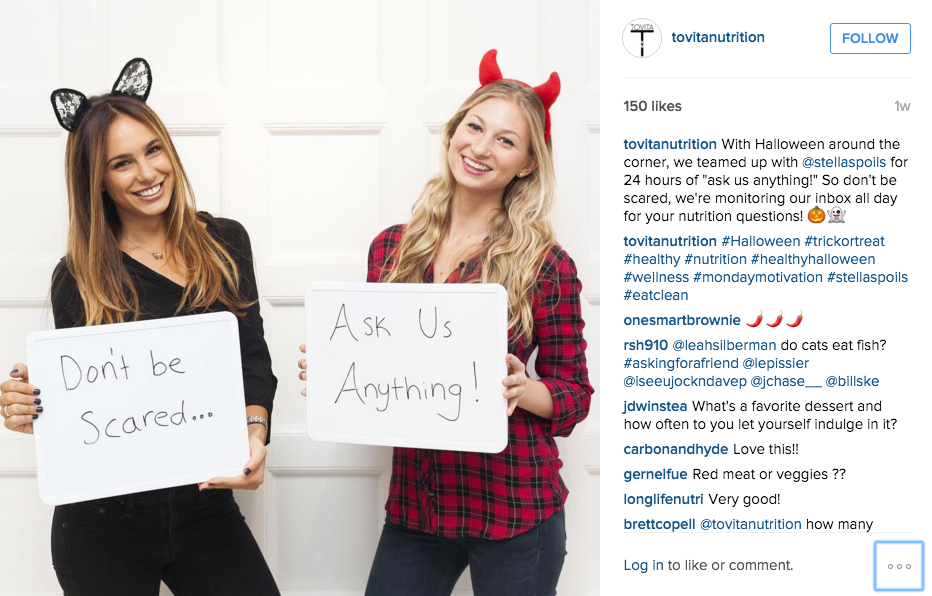 Here they are promoting their Ask Anything session with Stella Spoils.
Their approach to meaningful engagement has also guided them to creative partnerships. Recently, when they offered to answer questions for subscribers of the Mister Spoils Newsletter, they were inundated with questions. They responded to each and every one privately, which led to inquiries about services, as well as a blog post about the top five inquiries they got and their thoughts on them.
Tovita has also been featured on Fox News, SoulCycle.com, and Elite Daily among others, all over a short span of time. Though neither of them has experience or training in PR, you wouldn't know it from the way they approach their outreach. Molly explains, "We produce content to post on our blog regardless. But every time we write something, we also see it as an opportunity to share it with new audiences. We pitch our contacts at a variety of publications. So when we come up with ideas for content we have the audience in mind and target the content toward them."
They have taken a variety of approaches to cultivating media—and social media—relationships. For example, they offer nutritional services to fashion models at an LA agency, some of whom have large Twitter and Instagram followings and are happy to share their Tovita knowledge with their fans. As they've gotten a clearer sense of their target audience—young, urban professionals—they have developed closer relationships with publications and brands that represent this demographic.
As Leah outlines the basics of their influencer relationship strategy, "When it comes to aligning ourselves with other people and other brands, we look at their following, we look at who makes up their audience, and if our vision and mission aligns with theirs, we'll try to form a relationship." With Danielle Bernstein from WeWoreWhat, Leah explains, "Her background and expertise is obviously fashion, but she is interested in nutrition. So we approached her as health experts and suggested we collaborate by giving her fridge a makeover. It was so much fun and it worked out well for all of us."
Leah and Molly are still experimenting with their social campaigns, trying new things, and expanding their network, but they have clearly realised that while most virtual services don't have a face to them, social media enables Tovita to create a an authentic, personal connection with customers without having to be there in person. Leah sums up their business—and social media strategy—best when she points out, "Be true to yourself and be true to your vision because no matter how much PR or marketing is involved, if you don't have a service or a product that works and that you believe in, then other people aren't going to believe in it either."